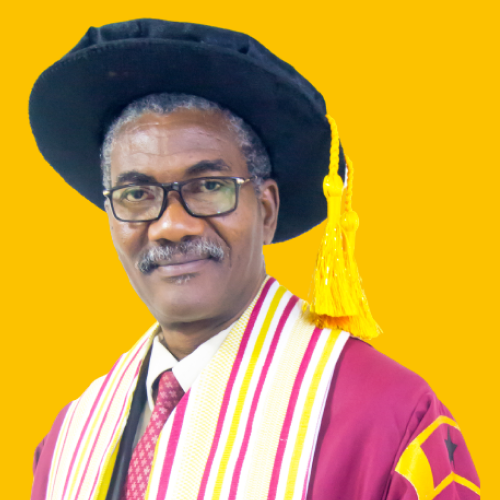 Dr. Vincent Anum Ankamah-Lomotey
Dr. Vincent Anum Ankamah-Lomotey, an expert in Curriculum Development, Science Communication, Research Uptake, and Utilisation has over twenty years' of experience in Higher Education Management.
He joined Kwame Nkrumah University of Science and Technology (KNUST), Kumasi as an Assistant Registrar in July 1998 and rose through the ranks to the position of Deputy Registrar.
He served as the Deputy Registrar, General Administration, Academic, and Students Affairs, University Relations, the College of Engineering, and the College of Science at different times in his career. He was at a point Faculty Registrar, at the Faculty of Agriculture.
In addition to his administrative responsibilities, he was a part-time lecturer in Integrated Science at the Institute of Educational Studies, KNUST.
Dr. Ankamah-Lomotey graduated from the University of Cape Coast with a bachelor's degree in Physics (Major) and Mathematics (Minor) and a Diploma in Education. 
After five (5) years of teaching Science and Mathematics, he was awarded the Overseas Development Administration (ODA) now DFID scholarship to study at the University of Bristol, United Kingdom, where he undertook and graduated with a Master of Science Education in 1996 after which he came back to teach for an additional five (5) years before joining KNUST. 
He obtained his Doctor of Philosophy (Ph.D.) in Science and Technology Studies with specialization in Research Uptake and Utilisation from the University of Stellenbosch, South Africa. In addition, he holds a certificate in Online Design and Teaching from the Amsterdam University of Applied Sciences.
He has been a leader of more than twenty (20) international students' recruitment teams across Africa, an External Assessor, Reviewer, Member of Committees for the Appointment of Registrars, Member/Secretary of Committees for the appointment of Vice-Chancellors, Member of Technical Resource Team, Knowledge for Change (K4C); an International Consortium for Training in Community-Based Research, Social Science and Humanities Research Council (SSHRC), Canada, among other various executive positions and capacities.
He was the Champion of the Development Research Uptake in Sub-Saharan Africa (DRUSSA) Programme at KNUST. He was also the Association of Commonwealth Universities (ACU) Champion for KNUST, a member of the ACU's network for Higher Education and the Sustainable Development Goals serving as a co-lead for community impact. He is an international conference speaker on Higher Education and Responsible Universities.
Dr. Ankamah-Lomotey is married to Mrs. Alberta Y. Lomotey, a lecturer at the Department of Nursing, KNUST. They are blessed with three children, two daughters and a son.
Research Area/Interest
Research Uptake and Utilisation
Science Communication
Higher Education Management and
Curriculum Development
Affiliation
Member, Society of Research Administrators International (SRAI)
Member of the Ghana Association of University Administrators (GAUA)
Fellow, Independence Hall, KNUST
Area of Speciality
Planning, directing and evaluating administrative procedures suitable for tertiary education management.
Reviewing and approving prevailing innovations within the tertiary sector.
Determining and administering strategy and process for shortlisting, interviewing and recommendation.
Higher education management, research uptake and utilisation
Developing Science Communication strategies for research dissemination.
Science Communication