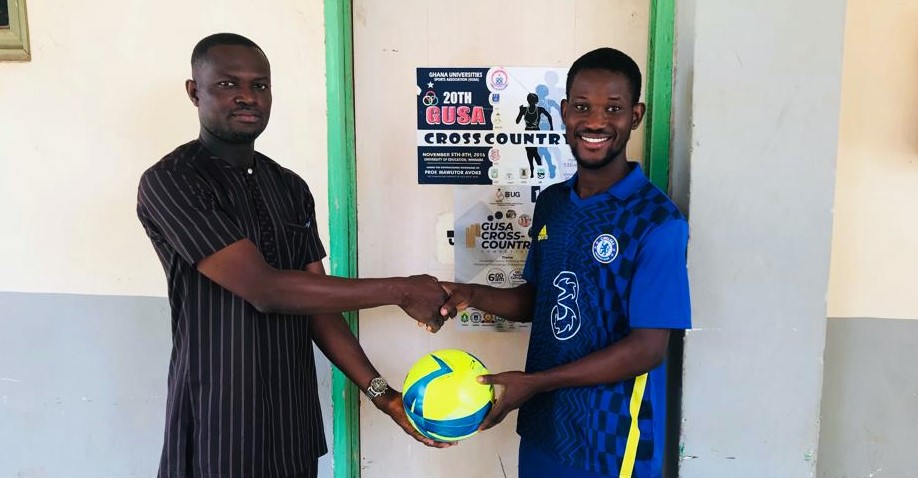 In a generous act of philanthropy, Mr. Joshua Asamoah Tawiah, a level 300 student pursuing a BSc. in Computer Science with the Computer Science Department at CKT-UTAS on July 6, 2023,  made a donation of a Soccermax ball to the University Sports Section.
The donation was received during the Inter-Zonals and Levels football competition, where the Senior Coach, Mr. Jude Domokyile Nayasama appealed to spectators, including students, to support the University, particularly with footballs.
It is hoped that his gesture will inspire others to follow suit and contribute to the growth and development of sports at the university.
Expressing gratitude on behalf of Prof. Albert Luguterah, the Pro Vice-Chancellor and Chairman of the Sports Advisory Committee, the Snr. Coach extended his appreciation to Mr. Tawiah for his generous gesture.
He acknowledged the difficulties faced during a previous competition when all the footballs burst due to the uneven nature of the football field. Mr. Tawiah's donation will undoubtedly contribute to the smooth functioning of future sporting events.
During the occasion, the University Administration and sports authorities called upon the general public to contribute to the development of the Sports Complex. The complex is set to include a football pitch, tennis courts, netball courts, basketball courts, and volleyball fields.
By soliciting support from the public, the university aims to create a state-of-the-art facility that can accommodate various sports and cater for the needs of both students and the local community.