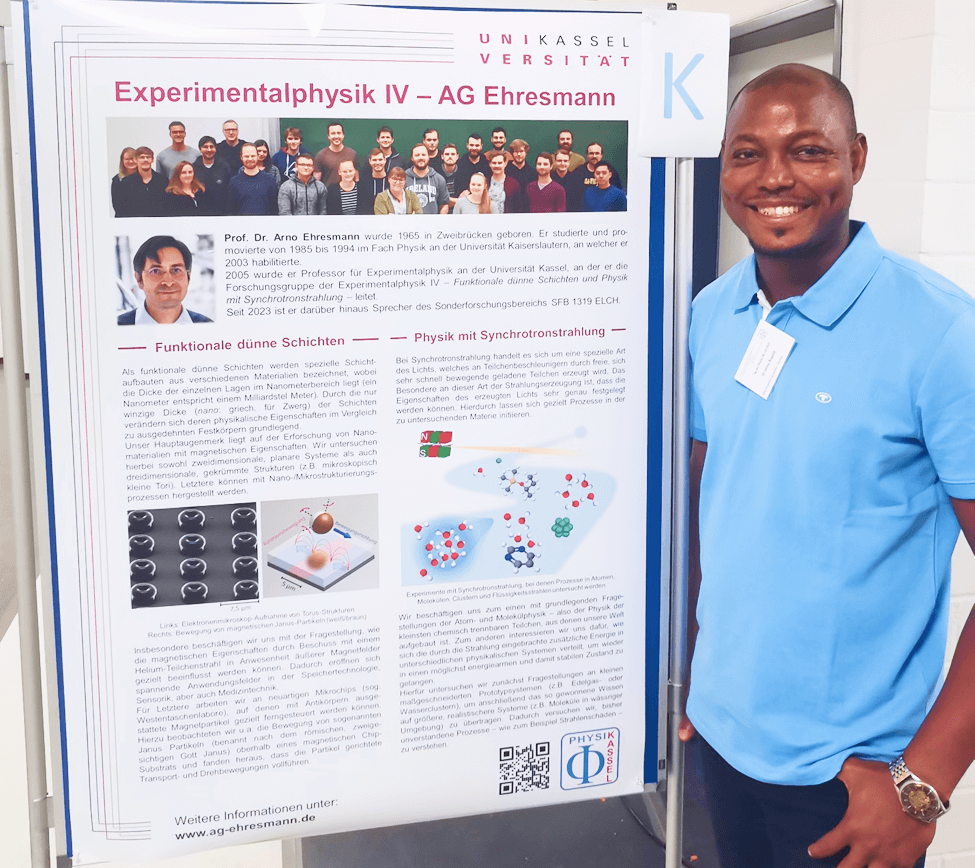 Dr. Jonas Bugase is the first CKT-UTAS lecturer to be one of the recipients of this year's prestigious awards of the AvH Fellowship for Postdocs under the Georg Forster Fellowship programme.
The Humboldtian is a Senior Lecture at the Department of Applied Physics in the School of Physical Sciences of the C. K. Tedam University of Technology and Applied Science (CKT-UTAS) Navrongo, Ghana. He is conducting his research at Universtät Kassel, Germany within the research group of Prof. Dr. Arno Ehresmann (Experimentalphysik IV – AG Ehresmann).
The Alexander von Humboldt Foundation (AvH) is a prestigious organization that offers sponsorship opportunities to researchers worldwide based on their exceptional research performance. Through research fellowships and awards, the foundation facilitates collaborations between foreign and German researchers, supporting their scientific progress and career development.
Additionally, the foundation grants the Georg Forster Fellowship to post-doctoral and experienced researchers from transitioned and developing countries, acknowledging their crucial role in contributing to the United Nations' 17 Sustainable Development Goals (SDGs).
Dr. Bugase's research focuses on the transport of magnetic nanoparticles using external magnetic fields and lithographically patterned magnetic substrates. The research seeks to experimentally study the transport dynamics and unveil its potential application in Lab-on-chip devices as well as the transport of biological specimens.
Within 24 months of the research duration, Dr. Bugase anticipates achieving these research goals for his fellowship while creating a solid platform for collaboration between the two institutions.