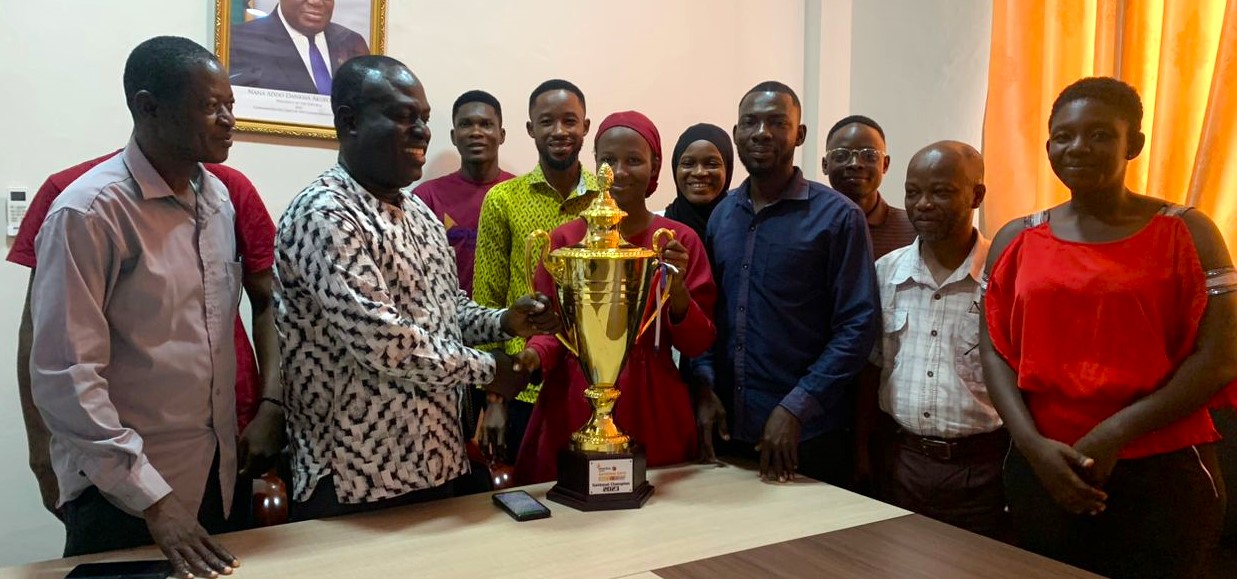 Enactus CKT-UTAS is making waves in Ghana with its exceptional team of young visionaries. This group of talented individuals has emerged victorious three consecutive times in a national competition, showcasing their extraordinary projects that tackle sustainability and revolutionize traditional practices. With their sights now set on international recognition, Enactus CKT-UTAS is ready to represent Ghana in the Global Arena.
On the 22nd of June, 2023, the Enactus CKT-UTAS Team led by their President, Miss Najlau Zakaria met with the Vice-Chancellor, Prof. Eric Magnus Wilmot, the Registrar, Dr. V. A. Ankamah-Lomotey and the Director of Finance, Mr. Anaamoatulim Anab, seeking support for their participation in the National Competition scheduled for the 6th of July 2023 at the Accra International Conference Centre. Recognizing the team's dedication and potential, Management readily provided transportation and additional logistics to assist the 15-member team for the competition.
The competition, featuring 11 other tertiary institutions, served as a platform for Enactus CKT-UTAS to unveil their groundbreaking projects. Among the standout initiatives was Project WasTek, an innovative solution aimed at converting spoilt refrigerators into multipurpose devices. By reimagining these discarded appliances, the team ingeniously designed poultry incubators, storage pressers, containers, and sitting stools. Utilizing technological advancements, Project WasTek has revolutionized egg hatching, enabling the team to hatch over 2000 eggs every 48 hours. This transformative project has the potential to reshape the poultry industry while reducing waste.
Additionally, Project Eco Husk demonstrates the team's commitment to environmental sustainability. Enactus CKT-UTAS innovators have found a way to transform rice husks and straws, which are often disposed of through burning, into valuable and eco-friendly products. These include wood for furniture, acoustics, and charcoal. By repurposing these agricultural byproducts, Enactus CKT-UTAS is contributing to the circular economy while reducing harmful emissions.
Following their victory in the national competition, the Enactus CKT-UTAS team returned to campus to express their gratitude to the supportive management. The Team was led by the Dean of Students, Dr. Ohene Boansi Apea, Assistant Patron and Project Coordinator Mr. Abraham Atosona, their president, Miss Najlau Zakaria, and team members presented the trophy to the Vice-Chancellor. He acknowledged their exceptional accomplishments and recognized the potential impact of their projects.
The Vice-Chancellor on behalf of Management pledged unwavering support for the team's journey to global recognition in the Netherlands, pending a successful audit of their projects. Enactus CKT-UTAS and its talented team have proven that ingenuity and determination can bring about transformative change. By converting waste into valuable resources, they are leading the way toward a more sustainable and prosperous future.