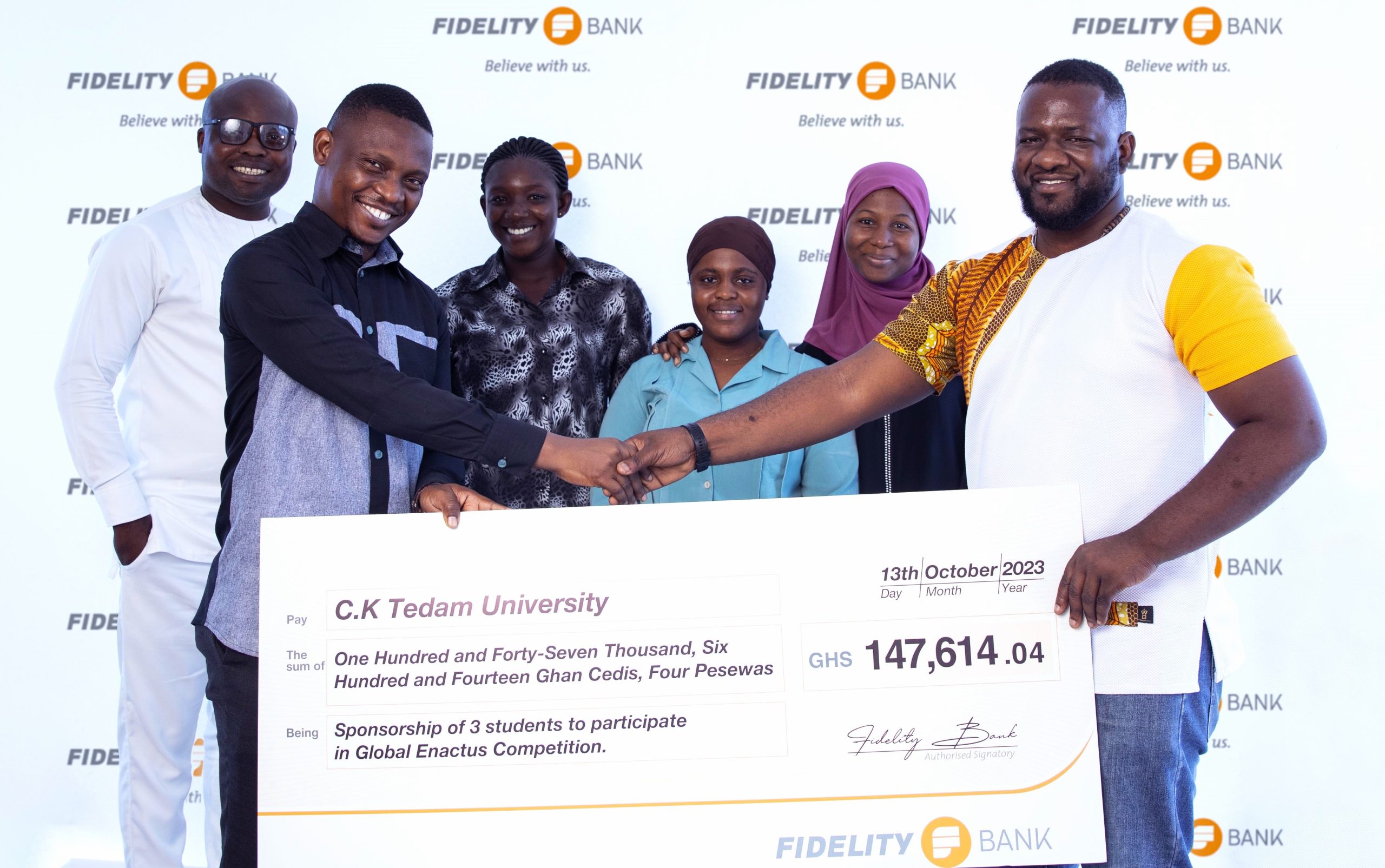 As part of its corporate humanitarian services, Fidelity Bank Ghana extended support to Enactus CKT-UTAS with a substantial donation of GHS 147,614.04 for their World Cup Competition in Utrecht, Netherlands scheduled on the 15th to the 21st of October, 2023. The heartwarming presentation ceremony took place at the corporate office in Accra on the 13th of October, 2023.
Mr. Esteban Amegashitsi, the Corporate Communications Manager of Fidelity Bank Ghana, had the honor of presenting the generous donation on behalf of the bank. The bank's commitment to community development and education was evident as Mr. Amegashitsi handed over the donation to Mr. Elliot Akuna an officer at the University Relations at CKT-UTAS.
On behalf of the Management of the University, Mr Elliot Akuna expressed his heartfelt gratitude for the financial support. He further stated that the donation would go a long way in making a tangible difference in students' lives. Ms Zakaria Najlau, the President of Enactus CKT-UTAS, Ms Ibrahim Hamdia, and Ms Abudu A. Eulalia were the beneficiaries of this gesture to enable them to participate in the competition.
Mr. Evans Hokey, the Programme Manager of Enactus Ghana, was also in attendance and expressed his profound gratitude for Fidelity Bank's noble gesture. He underscored the importance of corporate support in shaping the nation's future and nurturing the next generation of leaders.
This collaboration between Fidelity Bank Ghana and Enactus CKT-UTAS is not only a boost to these students but also a beacon of hope for many others who aspire to excel in their educational endeavors.
Fidelity Bank Ghana's contribution serves as a reminder of the positive impact businesses can have on society when they embrace their corporate social responsibility. By investing in education and empowering the youth, they are sowing the seeds for a brighter and more prosperous future.