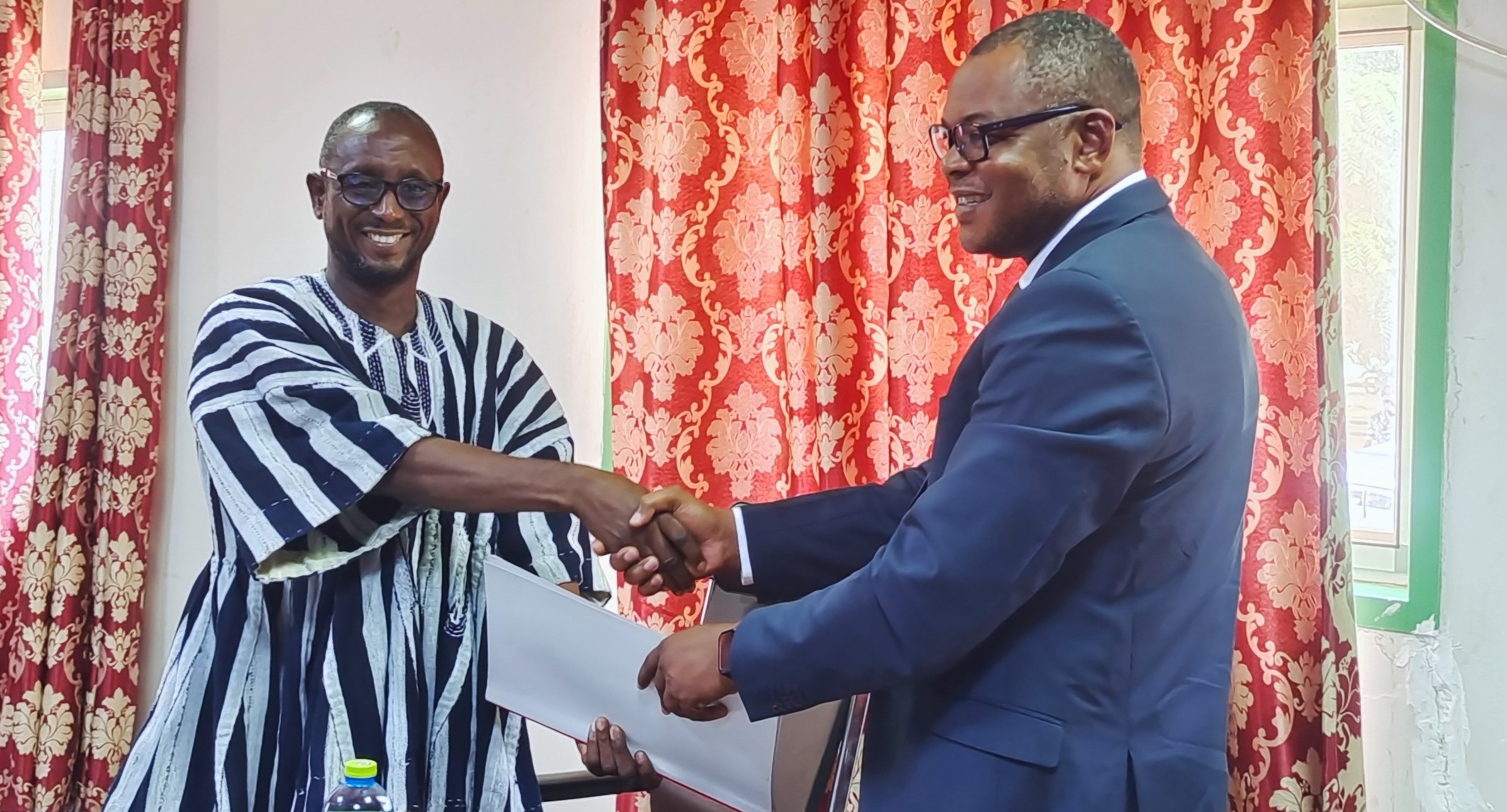 A transition in leadership took place at the School of Graduate Studies and Research (SGSR) on the 26th of August 2023, as the Board Members of the School gathered to witness the handing over ceremony between the outgoing Dean, Prof. Muniru Iddrisu, and the newly appointed Dean, Prof. Melvin-Guy Adonadaga. The event, held during a board meeting, was graced by the Vice-Chancellor, the Registrar and members of the Board of SGSR.
During the event, Prof. Muniru Iddrisu reflected on his tenure as the former Dean, highlighting the remarkable successes achieved despite the challenges faced. He expressed gratitude to the board members and the university's management for their unwavering support throughout his tenure. The Vice-Chancellor and the Registrar also took the opportunity to express their appreciation for his dedicated service.
The outgoing Dean's contributions were met with accolades and warm wishes from the Board Members present. Notably, his new appointment as the Principal at the Nyanpala campus of UDS was a cause for celebration and congratulations.
The ceremony also marked a fresh beginning, as Prof. Melvin-Guy Adonadaga took the opportunity to deliver his acceptance speech. He emphasized his commitment to upholding the high standards set by his predecessor and pledged to work with equal dedication and zeal.
His address underscored his vision for SGSR's future, which he summarized as follows: "To lead a well-established School which provides a supportive environment for the conduct of world-class graduate training and research towards national development."
Prof. Adonadaga's vision encompasses a comprehensive plan divided into key focus areas: Graduate training, Research, Visibility, and Staff development. His vision document, which outlines the specific strategies under each category, has been shared with the university community.
He highlighted the collaborative nature of SGSR's role within the University's structure, stressing the need for cooperation and support from the Deans of various schools. This collaboration, he emphasized, is essential to fulfilling the mandate of SGSR and achieving mutual success.
In closing, Prof. Adonadaga expressed his gratitude to everyone present, vowing to lead with inclusivity and a proactive spirit. He pledged his commitment to maintaining the highest academic and ethical research standards for the SGSR and CKT-UTAS as a whole.
The ceremony concluded on a note of optimism and enthusiasm, setting the stage for an exciting new chapter in the School.