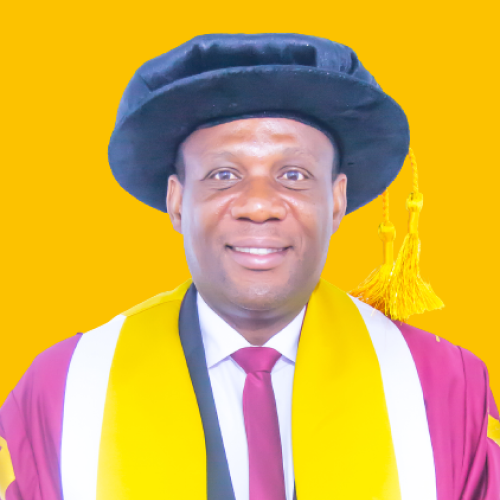 Professor Albert Luguterah
Pro Vice-Chancellor (2020 - 2023)
Professor Albert Luguterah, a product of Notre Dame Seminary Secondary School and Achimota School, holds a Ph.D. in Applied Statistics from the Navrongo Campus of the University for Development Studies (UDS, 2011), an MSc in Statistics from the University of Cape Coast (UCC, 2007), and a BSc (Hons) in Statistics with Mathematics from the University of Ghana (UG, 1993). He is an accomplished Academic and a Statistical expert.
Professor Luguterah has over 27 years of teaching experience. He has taught at the Tamale Secondary school (Now Tamale Senior High School), the Tamale Polytechnic (Now Tamale Technical University), the University for Development Studies, and now at the C. K. Tedam University for Technology and Applied Sciences.
Professor Luguterah is an experienced Academic and a member of several professional bodies including the Ghana Statistical Association (GSA), the International Statistical Institute (ISI), the American Statistical Association (ASA), and the International Biometric Society (IBS). He has taught several courses, and supervised several thesis/dissertations, at both the undergraduate and postgraduate level. He has also mentored several young people; including academics who teach in various tertiary institutions in Ghana and Abroad.
Prof. Luguterah has also worked on several local and internationally funded projects, for both private and public institutions including, the World Bank-sponsored Ghana National Household Registry (GNHR) project on the implementation of phase 2 of the project to establish household Registries for Ghana (2017-2018), the Canadian sponsored African Confederation of Cooperative Savings & Credit Associations (ACCOSCA) Research of Credit Unions in Africa, (1993).
Prof. Luguterah has been involved in several research works and has published over 50 articles in refereed journals as well as several conference proceedings. In his field, he is also well sought after both locally and internationally, for both Statistical or Academic advice including as a conference speaker, for programme Accreditation, Examinations, Assessments, etc.
Administratively, Prof. Albert Luguterah is a graduate of the Senior Academic Leadership Training (SALT, 2015) and has held several Academic leadership positions including, Post Graduate Coordinator, Assistant to the Director of Quality Assurance, Head of Statistics Department, Dean of the Faculty of Mathematical Sciences, Principal of the Navrongo Campus of the University for Development Studies and the Dean of the School of Graduate Studies and Research. He has also served on several statutory and Adhoc committees and boards of the University. He is a Fellow of the Chartered Institute of Leadership and Governance (CILG).
Prof. Albert Luguterah has been and is, involved in several extension services to support Individual, Societal, Community, National, and International development and transformation. He is a recipient of several citations and awards including the Global Leadership Award from Regent University in the USA.
Prof. Albert Luguterah is married to Mrs. Olivia Luguterah: They are blessed with three children.